JAPANESE TEA CEREMONY KIMONO 11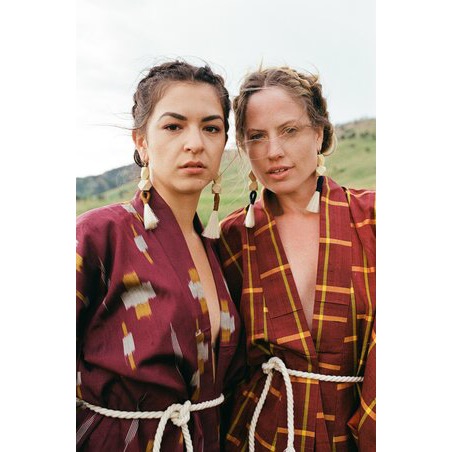 JAPANESE TEA CEREMONY KIMONO 11
THE JAPANESE TEA CEREMONY HAS A LONG HISTORY OF A THOUSAND YEARS AND HAS TIES TO THE TEA TRADERS IN CHINA. KIMONO ARE A TYPE OF TRADITIONAL JAPANESE FORMAL WEAR MADE OF SILK. KIMONO ARE AN IMPORTANT PART OF THE JAPANESE RITUAL, CEREMONY AND CELEBRATION.
✜ ✜ ✜ ✜ ✜ ✜ ✜ ✜ ✜ ✜ ✜ ✜ ✜ ✜ ✜ ✜ ✜ ✜ ✜
100% SILK
AMAZING CONDITION FOR AGE, SOME LIGHT AGING SPOTS BUT NOTHING MAJOR
SIZE FREE
ROPE BELT SOLD SEPARATELY
KIMONO 11 IS FULL LENGTH AND IS MADE OF ANTIQUE SILK IN THE PRETTY SHADE OF PURPLE. MODERN SWISS CROSS DESIGN WITH GOLDEN YELLOW AND WHITE. PERFECT FOR A SUMMER COVERUP, ROBE, PAIRED WITH DENIM AND A ROCK TEE OR WORN WITH A BELT AS A DRESS.
✜ ✜ ✜ ✜ ✜ ✜ ✜ ✜ ✜ ✜ ✜ ✜ ✜ ✜ ✜ ✜ ✜ ✜ ✜
MEASUREMENTS
LENGTH ~ 62"
SHOULDERS ~ 26"
SLEEVE ~ 13"
✜ ✜ ✜ ✜ ✜ ✜ ✜ ✜ ✜ ✜ ✜ ✜ ✜ ✜ ✜ ✜ ✜ ✜ ✜
FILM BY EARL STANDERFORD